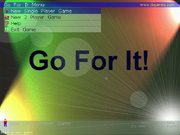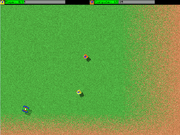 Go For it!
, aka
GFI
, is a minigame by
James Bunting
. It's a game for 2 players, or 1 player vs cpu. The goal of the game is to be the first to collect 25 tokens by flying around in little space ships.
Possible sequel
Edit
A screenshot of the Meteor 3 source code (which now seems to be gone--feel free to add if you have it) was once shown on the forum, wherein there was apparently a second project opened named "GFI2". This is likely a sequel to Go For It!
Go For It! was included as a secret minigame in Meteor 2. You can play it by entering the "gfi" in the console.
External links
Edit
Ad blocker interference detected!
Wikia is a free-to-use site that makes money from advertising. We have a modified experience for viewers using ad blockers

Wikia is not accessible if you've made further modifications. Remove the custom ad blocker rule(s) and the page will load as expected.