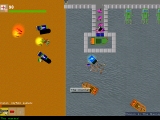 Civilian War: 25.5.2020 is a large total conversion mod for Meteor which is set after the events in the original game. This mod features an entire campaign and new everything. Although its by Aleksanteri it uses certain elements of Papercut's previous work to produce an immersive new feel. This mod has been updated to take advantage of the new features in Meteor v1.3 and above.
Ad blocker interference detected!
Wikia is a free-to-use site that makes money from advertising. We have a modified experience for viewers using ad blockers

Wikia is not accessible if you've made further modifications. Remove the custom ad blocker rule(s) and the page will load as expected.